Turbidimetric Assays for Clinical Chemistry Anlayzers
Canine CRP Turbidimetric Assay
The European Institute of Science Canine C-Reactive Protein (cCRP) is an in vitro immunoturbidometric assay for the quantitative determination of cCRP in dog serum or plasma. Dog (Canine) C-Reactive Protein is a pentameric plasma protein that consists of five 20 kDa subunits (of which two are glycosylated). The protein is a well-known acute phase reactant produced in the liver and its normal serum concentrations in healthy dogs is well below 35 mg/l.
Canine CRP is real-time marker for systemic inflammation and infection, as well as, response to ongoing clinical treatment. Serum protein levels increase rapidly, about 4–6 hours after stimuli and will quickly return to normal, usually within 48-72 hours after inflammation has ceased.
Assay Principle: A serum or plasma sample from a dog is mixed with anti-canine CRP antibody reagent. Canine CRP from the sample and anti-canine CRP from the antibody reagent reacts together and forms a precipitation reaction. The turbidity of the mixture scatters light which is measured photometrically. The turbidimetry is related to canine CRP concentration in the sample via interpolation on an established standard calibration curve. Kit Components:

R1 Assay Buffer: 1 * 20 ml
R2 Antibody Reagent: 1 * 4.0 ml
cCRP CAL200 Calibrator: 1 * 0.5 ml
cCRP Level 2 Control: 1 * 1.0 ml
Art. No. 2510-02.
Whole Blood Lateral Flow Assays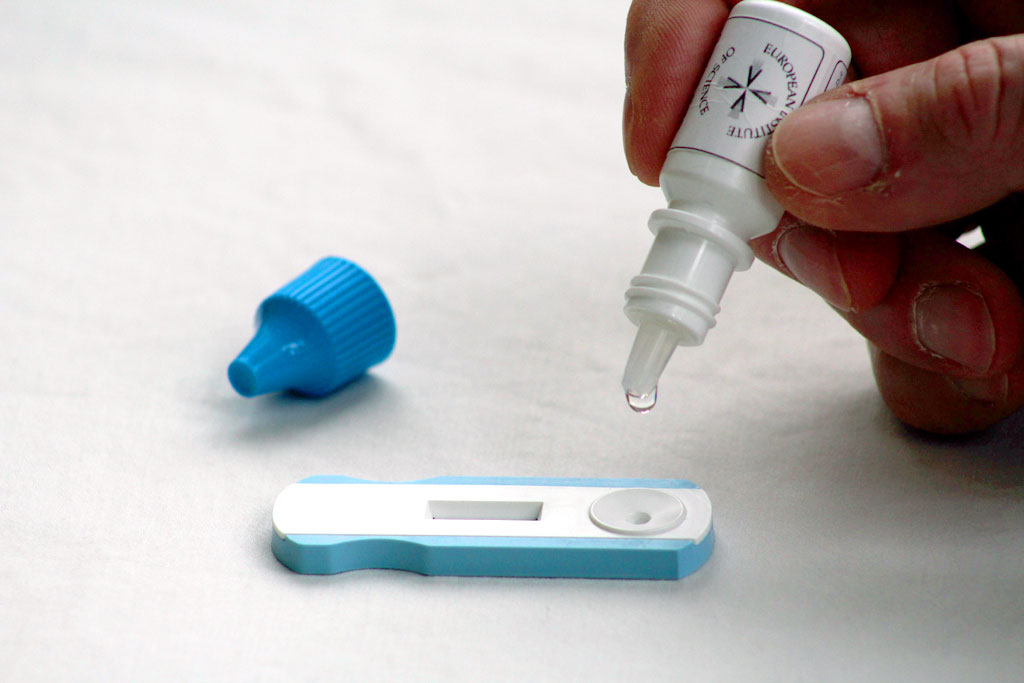 Canine CRP LF Assay
Determine if a dog has acute inflammation or not with a simple "Yes" or "No" response.
The European Institute of Science Canine CRP Lateral Flow (LF) Assay is a rapid chromatographic immunoassay for the detection of Canine C-Reactive Protein (cCRP) levels in canine blood at a cut-off concentration of 40 mg/l. Analysis time is 5 minutes. This assay is designed for qualitative determination of cCRP and may be used in point-of-care settings where the overall health of dog must be assessed quickly and to confirm if acute inflammation and/or infection are present or not. No additional measuring equipment is required for analysis.

Assay Features:
Qualitative rapid immuno­chromatographic assay
Detection of Canine CRP (cCRP) in whole blood from venous or capillary blood
Cut-off concentration of 40 mg/l
Assay time: 5 minutes
High degree of sensitivity and specificity
Kit size: 20 tests per kit
No additional equipment required
Art. No. 2520-01.
Point-of-Care Assays and Intrumentation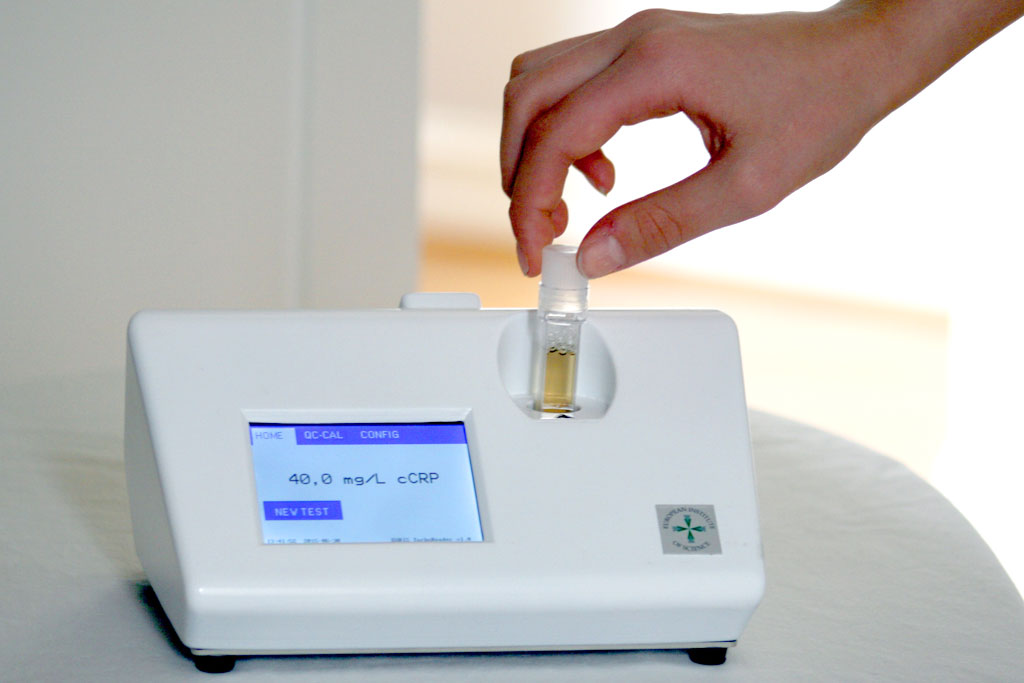 TurboReader Point-of Care Instrument
The European Institute of Science Point-of-Care Analyzer, the TurboReader, consists of a compact, user-friendly turbidimetric reader which together with single-use reagent cuvettes performs one analysis within 3 minutes. The total throughput of the analyzer is 15 tests per hour. The system can be operated with minimal training and performs tests on serum, plasma or whole blood. Automatic tests results are provided in minutes with the precision and accuracy comparable to a routine clinical chemistry analyzer found in the central laboratory. The TurboReader is light weight and can be run up to 8 hrs on an external battery for field operation.

Specifications:
Time to Result: 3 minutes
Sample Throughput: 15 samples per hour
Data Input: Barcode reader compatibility. Touch-screen. External data input capability
Data Output: Color display. External printer compatibility. External data output capability
Testing: Multiple tests performed on single instrument
Size: Height: 11.5 cm, Depth: 13.5 cm, Width: 21.5 cm
Weight: 1 kg
Power Consumption: 2 Watts
Battery Operation: 8 hrs (run on external battery)
Voltage Requirements: 100-240V 50/60 Hz

Art. No. 2200-04.
Canine CRP Point-of-Care Assay
Art. No. 2530-01.
Molecular Veterinary Diagnostics


Genesig® q16 PCR Instrumentation
The Genesig® q16 PCR Instrument is a user-friendly quantitative PCR instrument for molecular veterinary diagnostics manufactured by Primerdesign®. The instrument has been designed to be used by anyone, anywhere. There is no complex programming or data analysis required. All of that is taken care of by the instrument's clever software. The q16 can test up to 16 samples at a time and is designed to make DNA testing affordable and easy for veterinary health care.

Specifications for Genesig® q16 PCR Instrument:
Sampling: 16 wells, 20 ul reaction volume
PCR: Peltier thermal control. 3°C/s heating, 2°C/s cooling. Thermal uniformity +/- 0.1°C range. Thermal accuracy +/- 0.25°C
Multiplex Targets: LED excitation. CMOS detection. Multiplex detection of targets. Internal control via FAM & VIC channels
Size: Height: 16 cm, Diameter: 12 cm, and weight: 2 kg
Power Consumption: 90 Watts
Key Features: No moving parts. Silent operation. Operate from PC, Mac, via network or USB drive. Excellent well-to-well reproducibility. Fully automated data calling

The Genesig® product range includes a huge range of tests for veterinary diagnostics:
Companion Animals: Detect FIV in cats, CDV in dogs, Infuenza in birds and much, much more…
Farm Animals: Screen for Foot and Mouth or Blue Tongue outbreak. All possible from the back of a Land Rover with the Genesig® q16.
Equine: Precise and affordable detection of sexually transmitted diseases, Taylorella equigenitalis, Klebsella and P. Aeruginosa.

Complete list of Genesig® q16 Assays: Avian; Bovine; Ovine/caprine; Equine; Feline; Canine; Porcine; Piscean; Others.
Art. No. 2210-01.
About Us
The European Institute of Science AB is a manufacturer of diagnostic assays for the clinical laboratory and point-of-care settings, as well as, point-of-care instrumentation for diagnostic applications. Our mission is to provide veterinary and medical professionals with high-quality and accurate diagnostic tests and point-of-care instrumentation required for health care needs.
With a strong focus on veterinary health, the company's primary focus is diagnostic assays and instrumentation for canine, feline and equine animals. In order to provide a complete veterinary product line, the European Institute of Science AB is also a distributor within Scandinavia for veterinary diagnostic products produced by external manufacturers.
The European Institute of Science AB has been a unique center of excellence within innovation and entrepreneurship for more than 25 years. Together with public financing provided by the company's shareholders, the Institute has been able to create and develop more than ten high-tech patent families and the following four public companies: Biotech-IgG/Chemel AB (founded 1996), Genovis AB (founded 1999), Implementa Hebe AB (founded 2000) and LifeAssays AB (founded 2000). The company is situated at the IDEON research park in Lund, Sweden where it has a sales office and production facilities.
Quality Policy
The management at the European Institute of Science AB is committed to maintaining a comprehensive Quality System for the development, production and sales of safe & effective, high-quality diagnostic products. We achieve our commitment to quality by complying with all applicable regulatory requirements and by striving towards continuous improvement and high customer satisfaction.
Investors
Presentation Investeringsdagen Stockholm 28 augusti 2017
History
The European Institute of Science Inc. is a public shareholding company, which has been in existence for more than 25 years. Inventor & founder,dr. Dario Kriz, started the company in Malmoe, Sweden during 1990 with the core business centered around subcontracting and resale of laboratory equipment to chemical laboratories. During the first five years, the Institute built-up a mechanical & electronic workshop and a broad international network of subcontractors. A standard of professional craftsmanship was developed which is evident in today's prototype constructions.
During 1994 the Institute established itself in the Science park IDEON (Lund, Sweden). This transfer of the activities from the location in Malmoe showed to be a strategically very successful step. Almost instantaneously, the Institute was carried along in a wave of intensive high-tech research resulting in several unique products. Today, four different off-spring companies have been created around medical and biotechnical products developed within the Institute's research facilities.
The Institute went public during the fall of 1998 by conducting a public share issue in Sweden. The raised capital was used to help establish the European Institute of Science as a center of excellence in medical & biotechnology seen today. The know-how which has been built-up in the company since its foundation is currently used to create a new type of private incubator concept for technological projects. The core business idea is to provide soft capital in the form of research & prototype facilities as well as company know-how in economics and business management to early stage projects. In return, the Institute becomes part owners in the newly formed companies.
The Institute has had cofounded four different high-tech companies: Biotech-IgG AB (Chemel AB), Genovis AB, Implementa Hebe AB, and LifeAssays AB.
Management & Directors
dr. Lars-Olof Hansson
dr. Lars-Olof Hansson, born in 1944, is the Chairman since 2004. He became M.D. in 1977, specialist in clinical chemistry in 1984, Ph.D. in medicine in 1996, and associate professor in 1998. He was previously the Head of the department of Clinical chemistry and pharmacology at the Academic Hospital in Uppsala (Sweden). He has over 50 scientific publications. He holds 54 516 shares of class B in European Institute of Science AB. Personal homepage: www.linkedin.com
dr. Dario Kriz
dr. Dario Kriz, born in 1965, is the president and board member since 1990. He became Ph.D. in Biochemistry in 1994, visiting professor at the University of Regensburg (Germany) during 1997-1998, associate professor in 2004, and Honorary Consul for Republic of Slovenia to Kingdom of Sweden in 2015. He is the inventor of several products and methods in medical technology and biotechnology. He has 25 scientific publications and 13 approved patents. He has been CEO, chairman and board member of several stock listed companies. He holds 264 000 shares of class A and 439,653 shares of class B in European Institute of Science AB. Personal homepage: www.linkedin.com
dr. Kirstin Kriz
dr. Kirstin Kriz, born in 1975, is a board member since 2004. She became B.S. (University of California, San Diego, USA) in 1996, and Ph.D. in Biochemistry in 2003. Dr. Kriz has been awarded with several prestigious distinctions such as UCSD Regents Scholarship in 1995, UCSD Undergraduate Scholarship in 1996, and Phi Beta Kappa lifetime membership in 1997 for her academic achievements at the University of California San Diego, UCSD. She has 7 scientific publications. She holds 264 000 shares of class A and 78,128 shares of class B in European Institute of Science AB.
dr. Arne Jakobsson
dr. Arne Jakobsson, born in 1945, is a board member since 2014. He received his Ph.D. in 1980 (Lunds Universitet). He has 6 scientific publications. Dr. Jakobsson worked 25 years as medical doctor and was head of Vårdcentralen Södertull during the period 2000-2008. He is currently the boardmember of Implementa Hebe AB (since 2011). Dr. Jakobsson was a boardmember of the stock company LifeAssays AB (during 2002-2010, and acted as chairman during 2003-2010). He has no shares in European Institute of Science AB.
Success Record
Biotech-IgG AB (publ)
LifeAssays AB (publ)
Implementa Hebe AB (publ)
Genovis (publ)
The Share
The shares (EURI B) of European Institute of Science AB are traded on the market place AktieTorget.
Corporate Governance - Bolagsstyrning
European Institute of Science applies the Swedish Code of Corporate Governance ("the Code") as of February 1, 2010. The Code complements the external rules which affect the Corporate Governance, which is constituted mainly by the Companies Act, Accountancy legislation and current listing agreement. European Institute of Science applies fiscal financial year 1 Jan – 31 Dec, and will account for any deviations from the Code in a Corporate Governance report which will be attached to the Annual Report.These documents are available for downloading:
Documents
Protokoll årsstämmor/Minutes from Annual General Meetings
(in Swedish)
Auditors (Revisorer)
Annika Larsson, Mazars SET Revisionsbyrå AB
Anders OPersson/ Mazars SET Revisionsbyrå AB (suppleant)
Economical publications
Press-releases
Contact
European Institute of Science
Scheelevägen 27, 4th floor
SE-223 70 Lund, Sweden

Tel: +46 46 286 22 30
Fax: +46 46 12 98 79